This post is also available in: Italian
On the hills of Val Polcevera, nestled between the hills at the foot of Mount Figogna in the outskirts of Genoa, there's a very special rose garden: Roseto di Murta.
This garden features many peculiarities: first of all, there's a small monumental cemetery protected by walls inside it, dating back to 1835 and abandoned since the 1990s. In 2018 the Quellicheatrastacistannobene Association decided to restore it and transform it into the actual rose garden. Thus, after thoroughly cleaning it, some volunteers have planted many beautiful roses among statues, ancient crosses and many Art Nouveau architectural elements. In particular, there are Chinese roses, tea varieties and many others directly related to the charming Noisette species: namely, splendid specimens created mostly between the second half of the XIX century and the early XX century. Four well-known rose experts have contributed to their choice, Rita Oliva, Nicoletta Campanella (who has unfortunately closed her beautiful nursery but is still active with her publishing activity), Nicla Edizioni, and Sergio Scudo, from the S'orrosa nursery.
Some of the roses have a special origin; as recently mentioned by Sabrina Masnata, one of the volunteers who gave life to this most evocative garden, "I used to know a doctor from "Médecins Sans Frontières", Giuseppe Maria Rissone, and she happened to be a true rose lover as well as the owner of a beautiful garden. Unfortunately, he passed away last summer, but his nephew gave me twenty roses from his collection for our rose garden. I was deeply moved by that kindest gesture as it happened completely by chance and most spontaneously".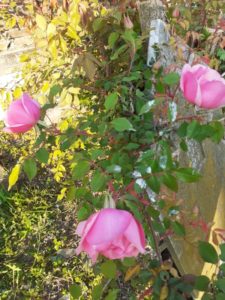 Sabrina teaches at secondary schools: I met her on Facebook a couple of years ago and she asked me to join one of her school visits to the Vertical Forest in Milan. It was a very stimulating experience, especially when it came to young students discovering such a unique "manmade" natural wonder. Sabrina later told me that "Murta rose garden was created to turn the villages of Trasta and Murta into a stimulating destination for enthusiasts and give Val Polcevera a corner of natural beauty; the latter has always been cared for by the local community extremely focused and dedicated to the conservation of its heritage, history and identity. In fact, "Quellicheatrastacistannobene" association was born in October 2012, among a handful of neighbours, who wanted to do something to promote their territory. Trasta is, in fact, a very beautiful place and one of the last green spaces left in an increasingly urbanized Valpolcevera; children can thus play out there in the streets, while adults enjoy some leisure strolls in the woods and along the mule tracks, surrounded by many priceless memories of the past. Unfortunately, degradation, lack of public education, overall neglect and some road construction sites have made that very countryside a most unwelcoming place. The abovementioned association thus decided to intervene and revitalize the territory, as Sabrina has often mentioned. Roseto di Murta was thus created together with a special exhibition about the Second World War local resistance against the Nazi occupation. Soon, the Rio Trasta and its tributaries will be thoroughly cleaned together with the restoration of some creuze>/em> (typical narrow paths or mule tracks that often run through the local hills and throughout Liguria Region), while some other photo and history exhibitions will be opened to the public.
Such comprehensive "Rose Garden project" is currently funded through tea-themed public events; the proceedings of a recently published book – Tea time in Liguria</e >, published by Sagep – are also used to maintain the garden.
The Roseto di Murta can be visited by appointment, while guided tours are available from the end of April to June.
For more information:
cell. 338 3211391
Instagram / Facebook "Roseto_di_Murta".
The beautiful photos on this page were taken by Sabrina Masnata.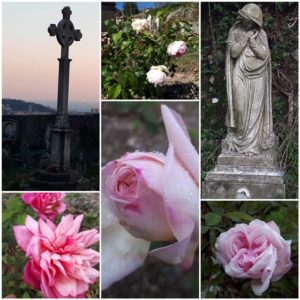 This post is also available in: Italian