This post is also available in: Italian
Fragrant, romantic, irresistible wisteria (Wisteria spp.), among the most impressive blooms in April. Loved by bees, so deeply embedded with Liberty and Japanese styles, wisteria looks simply irresistible in the softness of its hanging clusters, blessed with numberless all shades of purple, white and pink…
Please check the following links to discover the biggest collections of wisteria in Italy:
Villa della Pergola, in Alassio, which features 32 varieties;
Vivaio Vignoli, in Pistoia, the very cradle of the Italian wisteria, as well as the very place where new varieties are born.
Spectacular specimens can also be admired in many Italian cities. Take Milan, for example you can come across some wondrous wisteria in the gardens of the Liberty style villas, around the decommissioned railway huts, decorating many residential areas, in many courtyards and inside some historical noble abodes.
What follows is the detailed list of all the places where you can find spectacular specimens of wisteria in Milan; it is constantly updated also thanks to your precious comments.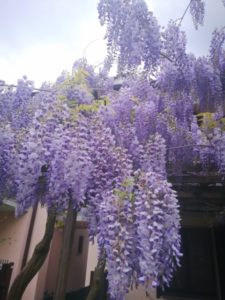 Thank you very much Milena for sending us the pictures of your own beloved wisteria!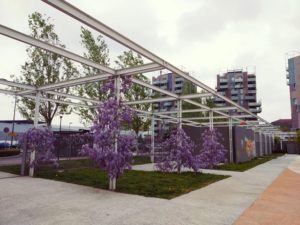 Some very special credit also goes to Alessandra Bognetti, who brought Parco Portello to our attention: the plants in that park are still quite young, but they definitely look promising.
In the
Inside Giardino del Tempo (Portello area), there are some other spectacular specimens of wisteria, which have now grown big enough to cover the pergolas over the park benches.
Your wisteria
Discovering wisteria in Milan
A recent heatwave has, unfortunately, spoiled all the wisteria in Milan. You may want to bookmark this article for the next year though!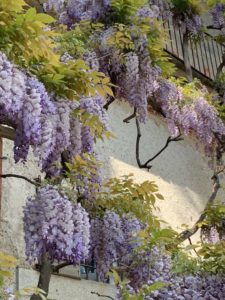 Orto Botanico di Brera, on via Fratelli Gabba 4 (city centre): a historic and very charming location where an old specimen of wisteria has been growing and blossoming for years.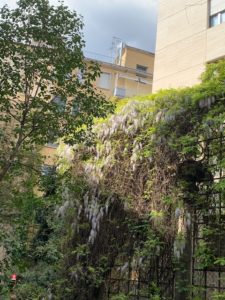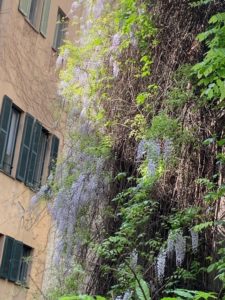 Via dei Giardini 4 (near Via Manzoni, city centre): a huge specimen grows in the garden courtyard between two residential buildings, but it has not been properly cared for in a long time. For that very reason, its spontaneous and most peculiar "falling" growth can be admired.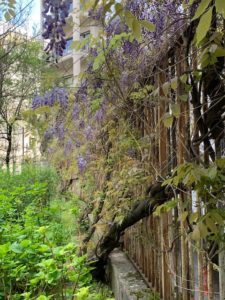 Giardino Perego, on via dei Giardini 6 (near Via Manzoni, city centre):
It's the smallest and most central English park in Milan; it was designed at the end of the 1700s for the Perego family from Cremnago. It's now a peaceful and most refreshing oasis, especially on hot summer days, cared for by "Orticola di Lombardia" association, which has already planted many new plants as well. Along one side of the gate, grows a historic specimen of wisteria (I remember seeing it for the first time when I was a child).
Cortile di Corso Garibaldi 42 (Garibaldi district): you will be truly impressed by this huge wisteria, at least 200 years old, growing inside one of the numberless courtyards of the public housing areas. A closed gate prevents access to that very courtyard, but if you asked kindly, somebody from the adjacent, lovely bijoux parlour – "Le Collane di Cinzia" (make sure to have a look at those exquisite creations) may help you.
Cortile di Corso Garibaldi 71 (Garibaldi district):
put under the jurisdiction of the famous Rossignoli bike shop, this specimen of wisteria almost entirely covers a beautiful pergola. If you sit under it, you'll be intoxicated by its fragrance.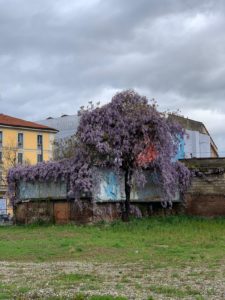 Ex Area distributore Tamoil (Porta Volta district): climbing on an ancient ruin, this specimen of wisteria grown inside a former gas station, next to the Lea Garofali shared garden. It's one of the most spectacular specimens of wisteria in Milan. Quoting the landscape architect Antonio Perazzi "At its feet was born a whole field of marvellous oenoterae, which will bloom tall, fragrant and yellow during our summer nights. That'll be possible without any proper irrigation systems, nor money or even a proper development plan».
Viale Elvezia 4 (Porta Tenaglia-Parco Sempione districts): a wonderful plant, grown in pots on the first-floor terrace, and perfectly decorating the balustrade and the space below (known as El Porteno). The contrast between the red building and the violet wisteria is truly spectacular.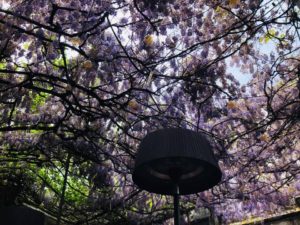 Circolo degli Ex Combattenti e Reduci, Piazzale Baimonti (Bastioni di Porta Volta district): an ancient fortress is now almost a secret place, reminding us of a tavern and blessed by a wondrous wisteria all around its courtyard. A nice place where to relax, play table tennis or even enjoy some live music. Patrizia De Rosa mentioned this location, as well as another specimen of wisteria inside a building on Piazzale Baiamonti: let's find it then!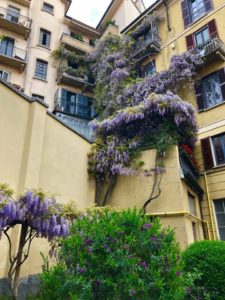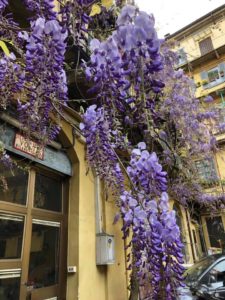 Interno di via Montello (Bastioni di Porta Volta-Arena district):
An old specimen of wisteria has now almost reached the end of the building, inside one of the huge courtyards along the street. Patrizia De Rosa, the author of this post, did not give us the street number, therefore it's up to us to find it!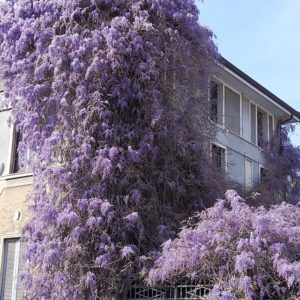 Via Vegezio (former fairgrounds area): WOW! Carla Valori posted the information about this truly amazing wisteria in Milan. Even if she did not mention the street address, it won't be that difficult to find!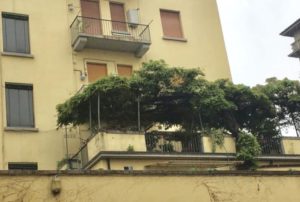 Via Masaccio 12 (former fairgrounds area): Ulriche Wachtler posted the information about this amazing wisteria which has now grown over the whole pergola on a beautiful terrace.
Via Pallavicino 12 (Pagano district): a centuries-old wisteria has now grown over a wonderful historical building.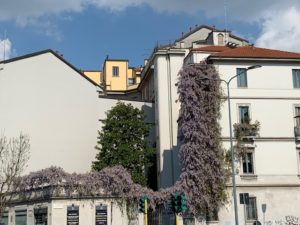 Viale Elvezia, on the corner of via Pallavicino (Pagano district): this wisteria would never fail to amaze any passer-by.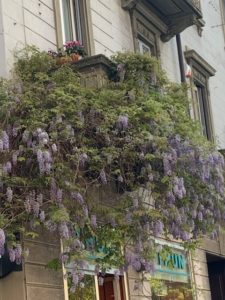 Via Belfiore, near the intersection with piazza Wagner (Pagano district): this specimen is not that big, but it's truly impressive and grows at the entrance of a small open courtyard. Its wondrous and fragrant bunches can be easily reached.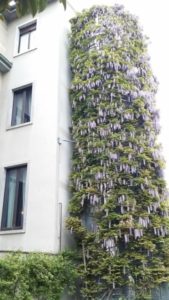 Villa Necchi Campiglio, on via Mozart 14 (near via Senato): this is a wonderful museum-residence standing in a vast garden with a tennis court and a swimming pool. The building was completed in 1935 and designed by the architect Piero Portaluppi. It's currently managed by Italy's National Trust (FAI). In the garden, you'll find a long pergola covered by some wonderful wisteria. As Pietro Marghetti mentioned (he's the author of the second picture), there's also a wondrous "tower" made of wisteria climbing on the backside of the villa.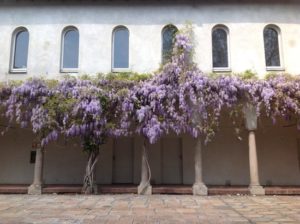 Cortili dell'Umanitaria, also known as Chiostri di San Barnaba, on via San Barnaba 48 (Court Hall area): the building which houses the historical Ente Morale humanitarian association was built in 1893 and features four very nice and large courtyards – one of them, known as Chiostro del Glicine (wisteria courtyard) was completed at the end of the XV century and still features some arches covered by this beautiful plant. All the courtyards are available for public or private functions.
Palazzo Archinto, on via Olmetto 6 (Carrobbio district): a wonderful historical building featuring some exquisite courtyards with porticoes. The latter is the only portion of the building which has survived WWI bombings, while the building was completely restored in 1960.
The huge wisteria in the courtyards is absolutely breath-taking.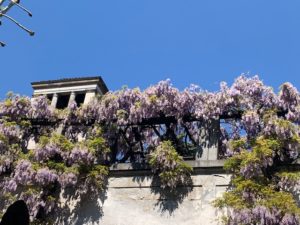 Garden on via Santa Valeria 4 (Magenta district):
this is a truly enchanting building that features a XVII century style, although it was actually built in 1924 by Carlo Ottavio Marchetti from Montestrutto. Reminiscent of a quaint country cottage, it features a façade entirely covered by some wonderful wisteria. Unfortunately, the surrounding plane trees have been very poorly kept and pruned.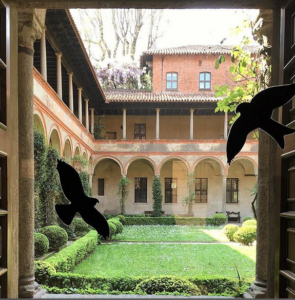 Courtyard of Casa Ucelli di Nemi, on via Cappuccio 7 (Magenta-Santrambogio district): silence is the most striking feature of this courtyard, which used to be a property of some nuns; it's probably one of the most beautiful in town, especially in April and May – the blooming seasons for a wonderful specimen of wisteria and some exquisite roses.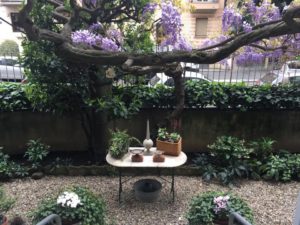 Via Alfredo Oriani 3 (zona Porta Romana): si scorge facilmente dalla strada questo delizioso giardino, moto Vecchia Milano, ornato da un annoso pergolato di glicine. Grazie a Maria Cristina Ilari per la segnalazione e la foto.
Politecnico di MIlano, piazza Leonardo da Vinci 2 (zona Città Studi): è sicuramente uno dei glicini più ammirato e fotografato della città. Cresce sulla facciata dello storico edificio cuore della prestigiosa università, fondato nel 1863.
Via Celoria 26 (zona Città Studi): come mi ha segnalato gentimente Camilla Buga, che ringrazio molto, all'ingresso del dipartimento di Bioscienze ci sono due gazebi ricoperti da glicini sotto i quali, specialmente in primavera, gli studenti possono riposarsi tra una lezione e l'altra.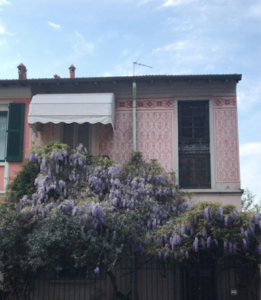 Via Vetta d'Italia 6 (near via Washington): this is a perfect example of an old railway service hut, decorated by a wonderful specimen of wisteria. This type of buildings are particularly abundant they were originally erected to house railway workers around town (near piazza Indipendenza, in piazza Carbonari, on via Sottocorno and via Fiamma, as well as in the Maggiolina district). All those huts feature a small or large garden which never fails to prove worth visiting.
Courtyard on via Cola di Rienzo 8 (Santagostino-via Solari area): the pergola which is part of the fashion workshop by Antonio Marras is entirely covered by some wondrous wisteria.
Viale Cogni Zugna 23 (zona Sant'Agostino): un grande glicine corre lungo tutta la cancellata del giaridno condominiale di questo edificio, arrampicandosi poi fino quali in cima, aiutato da cavi appositamente inseriti fra i balconi.
Viale Coni Zugna 40 (Sant'Agostino district): several plants of wisteria decorate the entire gate of the garden belonging to a condo on its street-side; they also cover a large pergola stretching inside.
Courtyard on Corso di Porta Ticinese 7 (Ticinese district): a wonderful specimen of wisteria has been blessing this terraced house – overlooking Milan's wet dock – with its irresistible fragrance and beauty for at least 200 years.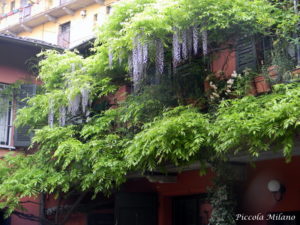 Courtyard on Alzaia Naviglio Grande 4, near the famous Vicolo dei Lavandai (Navigli district): a historic public housing structure with a double courtyard currently housing the workshops of some fashion designers and the headquarters of
Associazione Naviglio Grande.
A huge wisteria runs along the façade overlooking the first courtyard, among leadworts, roses and ivy.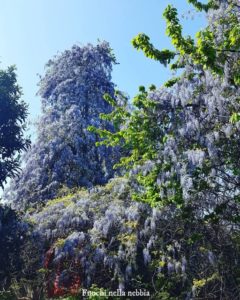 Via Verro 106 (Morivone district): as posted by Fuochi di Nebbia, in this area, there are some ancient relics of the past, including a small chicken farm. This narrow street which intersects via Ripamonti also houses a beautiful specimen of wisteria.
Via Verro 2 (Morivone district): nicknamed "Leonardo's wisteria" (the famous inventor used to rest under it), this specimen of wisteria is one of the oldest in Italy. It should have been planted no later than 1300 and its roots may stretch for hundred yards. Unfortunately, the plant is not in good health: has anybody got any pictures of it?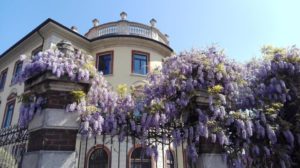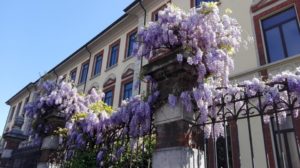 Damiano Chiesa Elementary School, at the intersection with via Bernardino Verro-viale Antonini (Vigentino – viale Tibaldi area): Lili Bosmeier sent us some photos of this magnificent wisteria, which grows on the very school gate on via Verro.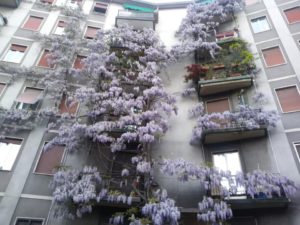 Via Mezzofanti, near the intersection with viale Corsica (viale Corsica area): Manuela Ferri sent us the picture of this magnificent specimen which has now covered a whole building.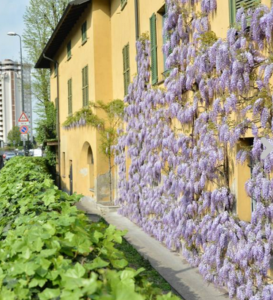 Cassina de' Pomm, on via Emilio de Marchi, at the intersection with via Melchiorre Gioia 189 (Greco district): an old farm ("cascina delle mele") with a courtyard, standing on the left bank of an ancient irrigation canal – now interred – which used to feed three mills. On the right bank, the Naviglio Martesana canal can be seen, together with a long bike-pedestrian route that stretches to viale Padova and runs across many beautiful gardens. A portion of the abovementioned old farm now houses a quaint bistro overlooked by a huge specimen of wisteria.
Another one has now grown over the other side of the farm.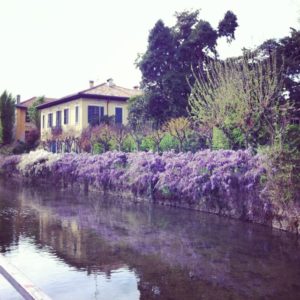 Canale della Martesana (Greco district): in the gardens along the canal, there is a jubilation of blooming violets. The bike-pedestrian route along the canal starts near Cassina de 'Pomm and Caffè Martesana (on via Melchiorre Gioia 189), and reaches viale Padova. You may go some 30 miles farther, passing through the municipalities of Cologno Monzese, Vimodrone, Cernusco sul Naviglio, Cassina dei Pecchi, Bussero, Gorgonzola, Gessate, Inzago, and Cassano d'Adda. The bicycle path runs alongside the right side of the canal through parks and residential area, while on the left bank there are many XVII century villas built by the Milanese nobles and several restored farmhouses. In Concesa, there's a magnificent neo-renaissance building that now houses the Adda Nord Park.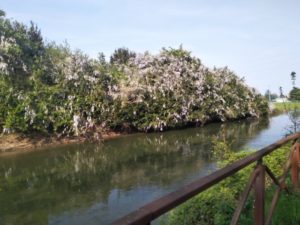 Cernusco sul Naviglio (MI): along the abovementioned path, you would come across many wondrous specimens of wisteria, which have now reached the canal water with their bunches. Photo by Ezio d Gaspari.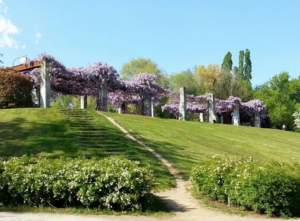 Parco Nord: inside this large metropolitan park – stretching across the municipalities of Milan, Bresso, Cormano, and Sesto San Giovanni – and very well served by the new lilac subway line (Viale Fulvio Testi station), you will find a long and impressive pergola, covered with old wisteria on a hill in the central area of this green facility.
Some other wisteria in the outskirts of Milan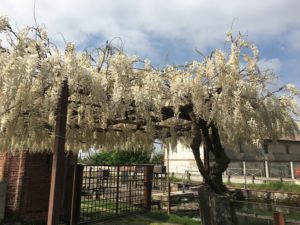 Casello idrico Guardiano delle Acque, on via Pavese 1, in Zibido San Giacomo (MI): in the garden overlooking the Naviglio Pavese canal, near the Moirago toll booth (used by barges until 1965), there is a wonderful white wisteria (Wisteria sinensis 'Alba'), with an overwhelming fragrance…
Anna Maria Miglietta and her husband Giacomo Sparasci live and work in this enchanted place. They are both excellent sculptors from Salento and create exquisite sculptures made of stone, marble, wood, terracotta, bronze, and corten steel, which evoke fairy tales, mythology, and the indissoluble bond between man and nature.
nel giardino affacciato sul Naviglio Pavese di un antico casello, in corripsondenza della chiusa di Moirago, luogo di transito dei barconi fino al 1965, cresce un meraviglioso glicine bianco (Wisteria sinensis 'Alba'), dal profumo travolgente..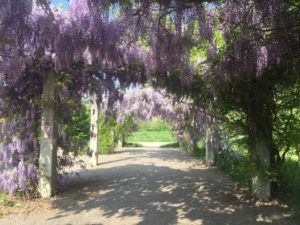 Parco Woityla in Seregno (Mi): Cristina Ancelotti sent us the info about this truly spectacular wisteria which grows on a beautiful pergola.
Antica Osteria La Rampina, on via Emilia 3, San Giuliano Milanese (MI):
a 300 years old wisteria grows on the façade of a quaint tavern – Andrea Vidali brought it to our attention. Thank you very much!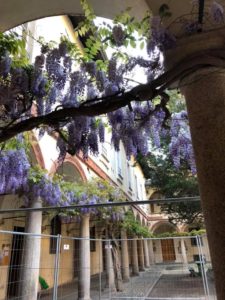 Cortile delle Magnolie dell'Università di Pavia, on corso Str. Nuova 65: Silvana Rizzo sent us all the information about this huge specimen of wisteria, which has allegedly grown since the end of WWII on the arches of one of the building porticoes.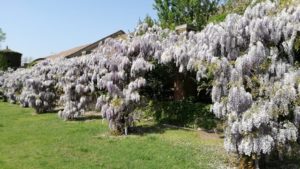 Tenuta San Giovanni, on via Uberto da Olevano 1, Olevano di Lomellina (PV):
in the estate garden, there's an outstanding arcade of wisteria. The whole property is available for private functions, wedding parties and short-term stays. The information was posted by Andrea Villa.
This post is also available in: Italian