This post is also available in: Italian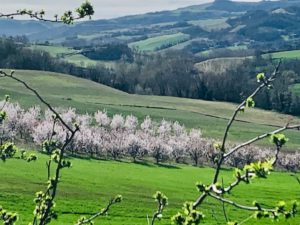 In April and early May in Japan, there's a special celebration of the cherry blossoms – a national event celebrated on the popular Hanami</em > anniversary: people gather under the trees and have picnics while enjoying the wealth of falling flower which symbolize the very fleetingness of life. Ephemeral and fragile, cherry blossoms (sakura) die at the apex of their splendour: for that very reasons, they are often associated with the true samurai warriors, who are ready to die in battle in the name of their rulers.
On the other hand, the early spring blooming looming also represents rebirth, life overcoming death, a regenerating power and prosperity: that's why cherry blossom infusions are usually served at wedding ceremonies.
One day I'm going to attend such an incredible event in Japan, but in the meantime, I can enjoy some equally spectacular cherry blossoms all over Italy. Let me give you a good tip: to make the most of your cherry blossoming experience, you should admire such a wonder of nature while lying underneath a tree, comfortably resting on soft green grass… do give it a try!
In Milan there are many cherry trees: take the Pagano district for instance or many public parks and small private gardens. Most of those trees belong to Prunus pissardi 'Nigra', Prunus serrulata 'Kanzan' (with oink double flowers), and Prunus x subhirtella 'Autumnalis' (a real feast for your eyes, in bloom from November to April) cultivars.
Nonetheless, as Enrico Cappellini once told me, we should give up planting blossoming cherry trees in the cities and in the plains, since due to climate changes the excessive heat would easily damage them. Many recently planted plants appear, in fact, in very poor health, like those in the "Garden of Time", inside Parco Portello : in summer the air gets boiling-hot and the well-being of poor trees is put in jeopardy.
On the other hands, some beautiful and healthy cherry trees can be admired inside Parco Monte Stella – an artificial dumpsite made with some WWII bombing debris and the last ruins of ancient city walls, after the end of the conflict. Architect Piero Bottoni built the "Elsa Stella" park on this very hill – hence its current name. The cherry trees planted there grow inside the "Giardino dei Giusti di tutto il mondo", which was opened to the public in 2003 – each year, a cherry tree is named after a famous person who fought for saving lives against racial persecutions.
Some other beautiful cherry trees with pink double flowers (Prunus serrulata 'Kanzan') can be seen in the little square via Moscova, opposite the Carabinieri barracks. Some other trees in very good health – with white flowers (Pyrus calleryana 'Chanticleer'), are those growing in the nuovo piccolo giardino pubblico built at the foot of the "vertical wood" residential area, in Porta Nuova district.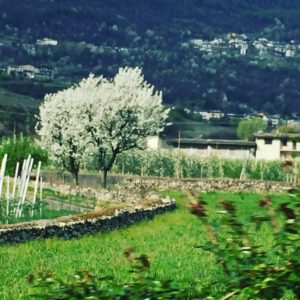 Emilia-Romagna e Veneto: the abundant orchards in the plains and on the hills of this region turn into some breath-taking natural tapestries with numberless shades of white and pink, exquisitely blended with the colours of pear, peach, apricot and prune trees, surrounded by the luxuriant green vegetation. In many villages and small cities, like Villanova sull'Arda (Piacenza) and Vignola (Modena), a special cherry festival is held every year – it's called Festa dei Ciliegi in Fiore.
The valley around Marano di Valpolicella is particularly rich in cherry trees, vineyards and olive trees.
Vignola (Modena): that's where the 6-mile itinerary starts and can be travelled by bike or simply on foot, stretching across the Cherry tree valley ("Valle dei ciliegi da frutto"). After visiting the old fortress in Vignola, visitors can head to Marano sul Panaro and enjoy its "Museo Civico di Ecologia e Storia natural" (Ecology and Natural History Museum), as well as the beautiful medieval castle.
On the way back (on The cherry trail) – several directions and signs will lead you through some amazing "clouds" of blossoming cherry trees.
In A Villanova sull'Arda (Piacenza) there's a very nice cherry tree garden inside Parco di Isola Giarola, in the Por River floodplain, created in 1995 as a portion of a restoration plan around that area. It can be visited in April, during a local Cherry Tree Festival.
In A Pedaso (Fermo), Marche Region, there's a huge Cherry Tree Garden, featuring more than 2.500 trees growing around "Contea dei Ciliegi" country resort.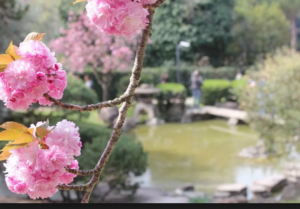 Roma: in the Eur district, 1.000 cherry trees were planted in 1959 – they were donated by Prime Minister Nobusuke Kishi, on the occasion of his visit to the capital city of Italy.
Near Villa Giulia, the Japanese Culture Institute features a wonderful garden, rich in cherry trees and built by the architect Ken Nakajima (the same who created the Japanese section of the Orto Botanico (Rome Botanical Garden).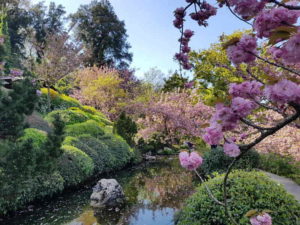 This post is also available in: Italian