This post is also available in: Italian
This second itinerary through the nurseries and the natural beauties of Sardinia runs through the western hinterland, a territory of ancient mines, ponds, marshes and hills. You can start around the coast of Oristano (famous for its beaches, limestone promontories and beautiful lagoons home to several species of rare birds), and proceed inland travelling across the beautiful Marmilla territory, a historical place where wild horses still thrive in perfect harmony with the surrounding environment. Then, you can reach Milis, an agricultural village on the slopes of Mount Ferru, full of orange trees, elms, cypresses and reeds, as well as large XVIII century portals, and impressive traces of prehistoric settlements (the "nuraghi"). From there, you will eventually reach the Southern Sardinia Province (SU), among quaint villages, plateaus, soft hills and waterfalls.
The listed nurseries will surprise you with their wide range of products: you will thus discover succulent plants, daylilies, exotic fruits, shrubs, ornamental trees and creepers, Sardinian endemic species, and wonderful juniper topiary works of art.
Alternatively, you can start the trip in Olbia, joining this itinerary with the first one, travelling to Vita Verde / Saba Nurseries, some 71 miles away.
There's also a third option: after this itinerary, you can travel on the third one, exploring Cagliari and its surroundings.
The nurseries
The map shows the nurseries and other locations included in our suggested itinerary. Distances are also mentioned, in order to make it easier and more practical for you to make your choice and save petrol and time.
I Campi – Hemerocallis, in Milis (OR): Established in 1996, the nursery – garden "I Campi" surrounds an old farmhouse, in the Mediterranean countryside in the province of Oristano; it is not far from "Vega di Milis", an area that has always been regarded as "the garden of Sardinia", thanks to its majestic citrus groves. This nursery is specialized in the production of Hemerocallis, herbaceous perennial plants, grass and other plants for arid gardens, requiring very little water.
Distances to other nurseries: 36 miles to Congiu Nursery – 37,2 miles to Piante Insolite – 48,5 miles to Murgia Nursery.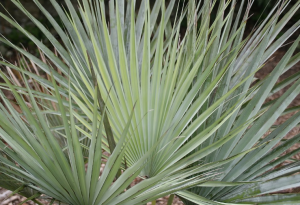 Congiu Nursery, in Setzu (Sud Sardegna): along the border with Riu Setzu, this nursery covers an area of 3.2 acres, featuring more than 200 palm trees over 16.4-ft high such as Washingtonia filifera, Phoenix canariensis, the rare grey-leaved Brahea, Cycas revoluta, Chamaerops humilis and several others. They are protected from the wind by an enclosure of Melaleuca armillaris, and some 2.500 plants like holm oaks, carob trees, Quercus coccinea, and Peruvian pepper (Schinus mole).
Distances to other nurseries: 10 miles to Piante Insolite – 36 miles to I Campi-Hemerocallis – 26 miles to Murgia Nursery.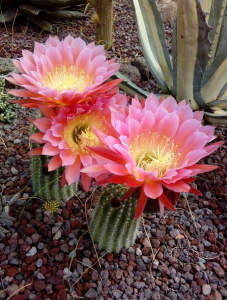 Piante INsolite by Fabrizio Grelli , in Pauli Arbarei (Sud Sardegna): founded by Fabrizio Grelli, this nursery is specialized in the production and cultivation of exotic fruits, including argan, avocado, kurrajong, common guava, boji, macadamia nut, passion fruit, 'Gelasius' pomegranate (with huge fruits), pecan, papaya, tamarillo, maidenhair trees, Peruvian pepper, and Jacaranda; there are also collectable succulent plants, flowering shrubs and creepers, as well as ancient fruit trees of Sardinian origin.
Distances to other nurseries: 17 miles to Murgia Nursery – 37 miles to I Campi-Hemerocallis – 9,9 miles to Congiu Nursery.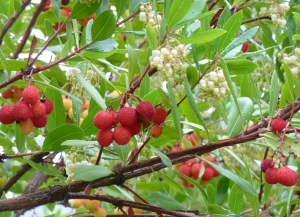 Murgia Vivai, in Villacidro (Sud Sardegna): Equipped with 3.587-square yard aluminium-glass greenhouses, a 1-hectare shaded area, some breeding grounds spreading over 4 hectares, and 5 hectares of open field planters, Murgia Nursery offers 600 different plants in various sizes, including local specimens and their very seeds. Cultivation has been implemented with the Air-pruning technique: it actually takes place in raised containers raised to prevent the roots from getting out of them – a technique born from thorough research and aimed at obtaining the best material for forestation and environmental restoration.
Distances to other nurseries: 48,5 miles to I Campi-Hemerocallis – 26 miles to Congiu Nursery – 17 miles to Piante INsolite.
Once you've reached this nursery, you may proceed on the third itinerary, travelling to Antonello Atzeni Nursery, 18,6 miles away.
Gardens, oasis and walks along the way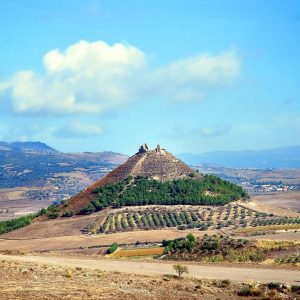 Marmilla: historical subregion of central-southern Sardinia, between the huge Campidano Plain and Mount Arci; it features round hills, small valleys, rugged basalt plateaus – including the Giarre one – inhabited by wild horses. There's also a great abundance of pools, wild buttercups and cyclamen. Spectacular and wild are also the Funtanamela forest of Laconi (made up of ancient holm oaks, mastic trees, Phyllirea and Cistus), and the Sacred wood of Santa Maria Bangargia, about 1,8 miles from the town of Collinas, where elms, poplars, secular olive trees and mastic trees grow. You should not also miss the medieval Castle of Las Plassas.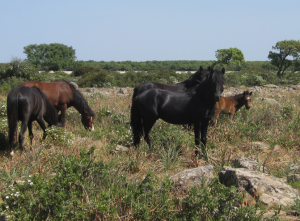 Giara di Gesturi Park: the plateau of Giara di Gesturi (a.k.a. "Jara" in Sardinian dialect – a basaltic plateau or the flat hills typical of this area), is a vast territory in the heart of Sardinia that covers some 16 square miles at 1.804 ft of altitude. More than 350 plant species have been identified on the plateau so far, some of them very rare such as Morisia monantha, a very small perennial species that blooms from January to April, with a most prominent golden-yellow flower. Giara Park is known above all as the place where "Cavallini della Giara" (Equus caballus jarae), the last wild horses in Europe, have found a perfect shelter. These animals are a crossbreed between common horses and ponies; they look quite small with a dark coat and almond-shaped eyes.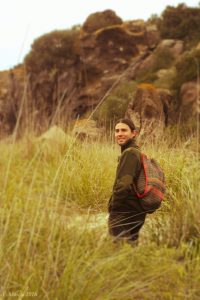 Azienda agricola Sa Laurera, in Villanovaforru (Sud Sardegna): Sa Laurera is located in the heart of Marmilla, a historic sub-region of central-southern Sardinia. It belongs to Francesco Mascia, a thirty years old farmer from Cagliari; he is also a passionate naturalist and the author of about 80 scientific publications, while he regularly works with associations, institutions and universities, especially in the botanical field. At Sa Laurera, he has settled down with his family, totally devoted to ecological sustainability and the pristine rural landscape, rediscovering ancient cultivation techniques and recovering historical biodiversity; in particular, Francesco has restored ancient varieties, as well as local ones and wild plants of ethnobotanical interest.
Other parks, oasis, nature reserves, exhibitions, ecomuseums and similar attractions are listed on: www.italianbotanicalheritage.com. Feel free to use the comprehensive filters in the pull-down menus to explore your area of interest and discover many more interesting locations.
This post is also available in: Italian