This post is also available in: Italian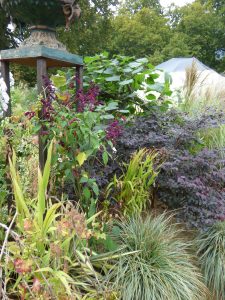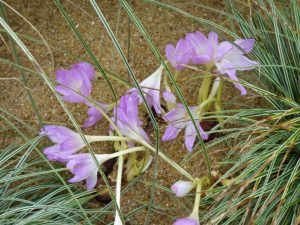 This garden won the first prize as the Best Nursery at "Orticolario 2016" exhibition, although it's a real green facility which has always mesmerized botanical professionals and occasional visitors alike: the landscape architect Alexandre Thomas has really created something unique and special, including a wealth of instructional features in his garden.
Any kind of visitor can thus enjoy shrubs, creepers, ornamental grasses, Aster and many other perennial plants, blessed with numberless shades of bright green, beige and purple; not to mention exquisite furnishings and decorations around an expanse of sand and glass crumbs, mimicking a beach and a pool of water.
Alexandre Thomas got the inspiration from his own garden, Le Jardin Agapanthe, in Grigneuseville, a small village north of Rouen, in Normandy: over 2,2 acres of his private laboratory, in constant evolution. This one is garden suited to the coastal climate and sandy soil, which Alexandre Thomas is always happy to reveal to its visitors. It features a very basic structure, with prominent earth movement effects, terraces and walls, streams and water basins, as well as an incredible wealth of plants and fountains, decorations, antique furnishings (also for sale) and animals. This most unique facility could really be a source of inspiration at any time of the year.
As I've just mentioned, Alexandre Thomas sells a wide range of antique furnishings – please visit Proantic.com for more information.
Le Jardin Agapanthe is open every day, from 2 pm to 7 pm (except on Wednesday).

This post is also available in: Italian