Sardinia has marvellous beaches and coasts (1800 km!), but its hinterland is rough, wild and full of botanical surprises; it is not, traditionally, a land of historic gardens and nurseries. Gardens and nurseries began to appear only during the 1960s, with the beginning of tourism and the building of hotels, resorts and housing estates facing the sea. However, times have changed and we needed to plan 3 different itineraries in order to cover this beautiful territory. Of course, you can take them all at once. Let's begin with the first one: starting from Olbia, where many ferries arrive, we leave beaches behind and go into the hinterland up to Sassari, a Medieval city with many noble palaces and churches of great value, within fields and olive groves. Passing by one of the areas with the most nuraghes, we will reach Nuoro, named Sardinian Athens for the interesting cultural activity that characterised the city in the 19th and 20th Century (artists and writers such as Salvatore and Sebastiano Satta, Francesco Ciusa and Grazia Deledda come from here). You will discover four nurseries, very interesting, and their plants: camellias, succulents, Mediterranean, subtropicals and tropical plants, citruses and bearer trees, among which a very particular one…
A suggestion: on the way there or on the way back, spend a few days on the islands La Maddalena and Caprera (Maddalena Archipelago), amazing for their sea and nature.
The map indicates the nurseries and the other locations of the suggested itinerary. For each nursery, we indicate its distance from the others, in order to facilitate you in the choice of the ones to visit and their order.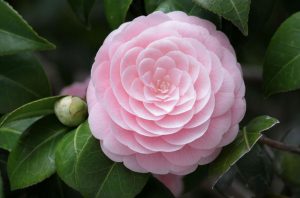 Florovivaistica La Fumosa, Tempio Pausania (Olbia-Tempio): would you imagine to find a nursery specialised in camellias in Sardinia? Here is La Fumosa! Thanks to the quality of the spring water and the particular climatic conditions, it is possible to have a flourishing production of this acid-loving shrubs that dislike strong climates.
Distance from other nurseries: km 42 from Paolo Calbini Succulente – km 71 from La Rosa dei Venti – km 135 from Vivai Saba.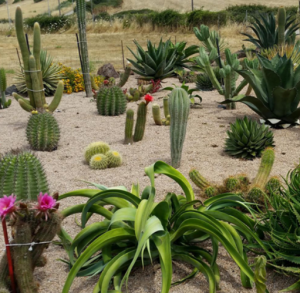 Vivaio Paolo Calbini Piante Succulente, Tergiu (Sassari): this small family-run agricultural company created by Paolo Calbini, reproduces and distributes succulents, among which Trichocereuses, that are hybridised and reproduced with great passion, trying to reach the perfect hue.
Distance from other nurseries: km 33,5 from La Rosa dei Venti – km 42 from Az. Florovaistica La Fumosa – km 151 from Vivai Saba.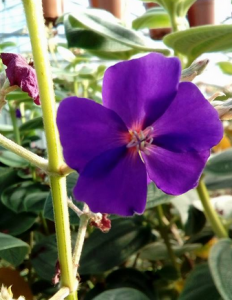 La Rosa nei Venti, Rudas Alghero (Sassari): opened by Emanuela Bombi, it produces Mediterranean species, crown jewel of Sardinian gardens, but also tropical and subtropical species.
Distance from other nurseries: km 150 from Vivai Saba – km 71 from Flor. La Fumosa – km 33,5 from Paolo Calbini Succulente.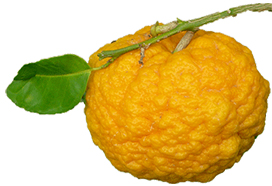 Vivai Saba/ Vita Verde, the nursery established by Sergio Saba produces citruses, olive trees, grapevines and bearer plants. Among the citruses, the cultivation of "Pompia" (Citrus limon var. pompia) stands out; it is a vary rare variety of local lemon, maybe a hybrid between cedar and grapefruit or between cedar and lemon, rediscovered at the end of the 1990s. Among the other bearer plants, the nursery cultivates some local varieties selected with the collaboration of the Dorgali Biodiversity Committee. Among the grapevines, an excellent white Muscat selected with the collaboration of a committee in Lula.
Distance from other nurseries: km 135 from Florov. La Fumosa – km 151 from Paolo Calbini Succulente – km 150 from La Rosa dei Venti.
Parks, naturalistic reserves and more along the way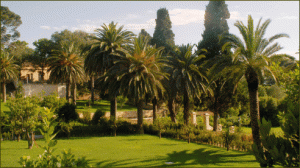 Parco di Monserrato, Sassari: it was once the most important noble estate in the city; it was realised in 2007, following the natural incline of the place, respecting small walls, slopes and scarps. There are many trees and shrubs, creating perspectival views, among which palms, citruses, carob trees, olive trees, pomegranates, magnolias, cypresses, holm oaks, lindens, pines and long lentiscus hedges.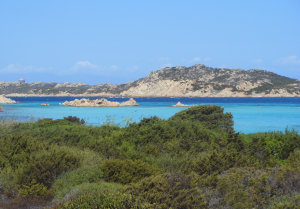 Parco Nazionale dell'Arcipelago di La Maddalena: established in 1994, it a geo-maritime park made up of islands, islets, rocks and cliffs, extending over 20000 hectares of land and see and 180 km of coastline. It is very rich in flora and fauna, much of which local, and is still largely untouched by man and dominated by nature. The most important islands are Caprera and Santa Margherita, ideal places for ornithology enthusiasts since many maritime birds live there. Caprera, 16 km2 of bays, waters and amazing pine groves, with only 150 residents, also hosts the Giuseppe Garibaldi Home-Museum, who landed there in 1855 when the island was still uninhabited. Outside the house there is an orchard, the majestic pine planted by the "Hero of the two Worlds" planted in 1867 on the occasion of the birth of his daughter Clelia, and a windmill. You can't miss the Punta Rossa pine grove with its fort, the Cala Portese beaches (also known as "of the two Seas" because it has sea on both sides), Cala Andreani with its super white beach and emerald water, and the beach known as il Relitto (the relict) for the presence of a stranded boat.
You will find more naturalistic oasis, parks, museums and eco-museums on www.italianbotanicalheritage.com, "luoghi", "Sardegna", selecting the category you are interested in. Alternatively, you can scroll down the list of all the interesting places alphabetically ordered, and find something new.