The nursery activity was born in Europe between the end of the 18th Century and the first half of the 19th Century, when gardeners working in the great mansions, who used to reproduce the plants in the gardens so that they could substitute them when necessary, began to sell them. For this reason, nursery in Lombardy is a long-established activity. There are so many nurseries, both big and small, that we had to create five itineraries in order to divide them so that they can be visited during a weekend: From Milan to Pavia, From Lake Maggiore to Varese Lake, Monza in Brianza, From Como to Lecco, and From Bergamo to Brescia and Mantova. Let's begin with first one, the shortest, that will guide you through particular nurseries and garden centres that offer a large choice of plants, places where you will have a pleasant time and learn a lot.

Nurseries
The map indicates the nurseries and the other locations of the suggested itinerary. For each nursery, we indicate its distance from the others, in order to facilitate you in the choice of the ones to visit and their order.
Flora Conservation: an interesting nursery situated just outside Pavia, opened by Simone Orsenigo and Lino Zubiani, who put together various professionals that had been working for years at international projects for the safeguard of plant biodiversity. As a matter of fact, the nursery produces only plants and seeds of spontaneous species of the Italian flora, rustic and resilient, to be used for various kinds of projects, among which environmental recoveries, phytodepurations, naturalistic gardens and more.
Distance from other nurseries: km 42 from Fratelli Ingegnoli – km 46 from Giardini Galbiati – km 61 from Cooperativa Cascina Bollate.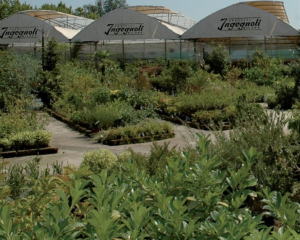 Fratelli Ingegnoli: historic Milanese garden centre-nursery, now located in the Forlanini neighbourhood (North-East of the city, near the airport), it offers a wide choice of ornamental plants in pots, fruit trees, seeds, bonsai, phytodrugs, topsoils, vases and all the equipment for the maintenance of green spaces. Established at the end of the 18th Century, during the 19th Century the nursery did important researches in collaboration with the best Italian and foreigners botanists, which led to the selection of new varieties: ornamental, fodder and fruit plants, vegetables and grasses. Giuseppe Verdi, passionate about farming, is one among the many renowned clients of the nursery; he bought the first persimmon trees cultivated in Italy.
Distance from other nurseries: km 7 from Giardini Galbiati – km 42 from Flora Conservation – km 31 from Cooperativa Cascina Bollate.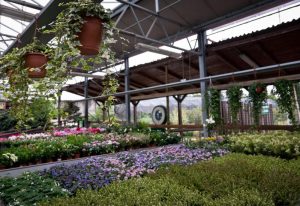 Giardini Galbiati, Milano: opened in the area nearby the farmstead San Pietro and Acquabella, at the periphery of Milan, by Giuseppe Galbiati, famous tenor of the 1930s and plant enthusiast, it is a big garden centre of Dutch inspiration that preserves the charm of the ancient Lombard courtyard. Besides a large offer of outdoor and indoor plants, novelties, equipment and products for animals, it is a friendly place where you can spend a pleasant time listening to music, reading or playing with your children.
Distance from other nurseries: km 26,5 from Cooperativa Cascina Bollate – km 46 from Flora Conservation – km 7 from Fratelli Ingegnoli.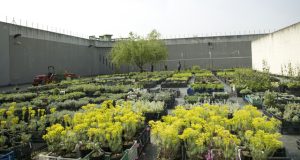 Cooperativa sociale Cascina Bollate : founded by Susanna Magistretti and located within the jail in Bollate (Milan), it is an exquisite example of social commitment to create new possibilities to live and work. Free gardeners work together with detained gardeners, that during their stay learn a job and become professionals. They cultivate perennial herbaceous plants, among which ornamental grasses, a small collection of annuals and ancient roses: unusual plants, but easy to grow. The access to Cascina Bollate is only allowed during organised visits (usually on Saturdays), in the days open to the public (Wednesday and Friday) or on the occasion of gardening classes; therefore, you should plan your visit ahead if you want to have this incredible experience. You can also buy the plant at the shop annexed to building, in the outdoor courtyard.
Distance from other nurseries: km 61 from Flora Conservation – km 31 from Fratelli Ingegnoli – km 26,5 from Giardini Galbiati.
Did you enjoy this itinerary? You can follow two other routes: Wandering nurseries: from Varese Lake to Lake Maggiore (Lombardy/2) , reaching Il Giardino delle Essenze Perdute, 26 km away, or Andar per vivai: Monza e Brianza, alla corte di Teodolinda  (Lombardia/4, reaching Az. agr. Emanuele Meani, 12 km away. The choice is up to you!
Artisans not to be missed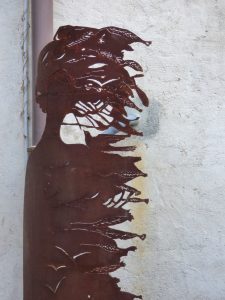 Il Guardiano delle Acque, Zibido San Giacomo (Milan): in this workshop time seems to have stopped. In a castle on the bank of the Naviglio Pavese, Anna Maria Miglietta and Giacomo Sparasci, two poetic sculptors of Salentino origins, create sculptures, both big and tiny, with various materials – earthenware, stone, marble, bronze and cort-en steel – inspired by the ancient history of their native land, where Greek roots and farming traditions, mythology and fairy tale mix. Drops of light carved in metal, trees in the wind, flocks of swallows, small horse, braziers, thrones, signs, jumping fishes, human figures – women with their hair in the wind, mothers, bearded kings throwing thunderbolts reminiscent of the gods of the Olympus.
Gardens between Milan and Pavia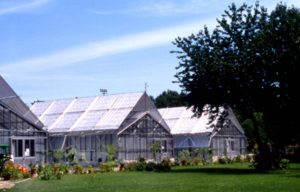 Experimental botanical garden Cascina Rosa, via Peroni 7, Città Studi, Milano: less known than the historic Botanical Garden in Brera, it was established in 2001. It extends over a surface of 22000 m2, with various itineraries discovering many species of Lombard trees and species imported into Italy from the 18th Century onwards, but also succulents, bromeliads, and plants, spontaneous and aquatic, for natural dyeing. Workshops dedicated to research and teaching are held in a building annexed to the garden.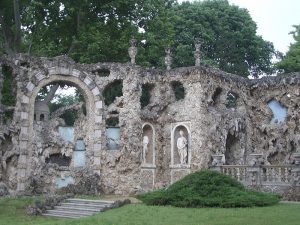 Villa Visconti Borromeo Litta, Lainate, North West of Milano: amazing building dating back to the end of the 16th Century, it is made up of several parts: the villa, reminiscent of the 18th Century style; the park, with water plays and grottos; a Late Renaissance nymphaeum, renovated; Italian and English gardens; and 19th Century greenhouses.
To find more gardens, you can have a look at www.italianbotanicalheritage.com, clicking on "luoghi" you can search by region, province or city.