Among the most renowned and beloved Italian areas, the coast of Campania has a place of honour for its naturalistic and landscape beauty, its ancient villages, its touristic spots and the many culinary products, like the famous limoncello and mozzarella di bufala. The area id divided in the Amalfi Coast and the Sorrento Coast.
The Amalfi Coast overlooks the Gulf of Salerno, it begins West, in Positano, and ends East in Vietri sul Mare. It is considered by UNESCO as a World Heritage site, and the Italian author Boccaccio described it thus "(…) The sea-coast from Reggio to Gaeta is commonly believed to be well-nigh the most delightful part of Italy, and therein, pretty near Salerno, is a hillside overlooking the sea, which the countryfolk call Amalfi Side, full of little towns and gardens and springs and of men as rich and stirring in the matter of trade as any in the world (…)" (The Decameron – Day the First, Fourth Story).
The Sorrento Coast, facing the Gulf of Naples, goes from Sant'Agata sui Due Golfi (East) to Castellamare di Stabia (North-West).
However, Campania is also a land of great gardens and with a long-established botanical tradition, with a passion for roses, camellia and citruses, in particular. Along the two coast you can therefore find a lot of interesting nurseries, among which we chose seven: starting from Salerno, a historic city that hosted the Schola Medica Salernitana in the Middle Ages and now hosts the Festival of Lights at Christmas time, you will then proceed toward Naples and land on the island of Ischia. We advise taking a few days to visit these places slowly, stopping by the gardens, naturalistic oasis, beaches and thermal places along the way.
Nurseries
The map indicates the nurseries and the other locations of the suggested itinerary. For each nursery, we indicate its distance from the others, in order to facilitate you in the choice of the ones to visit and their order.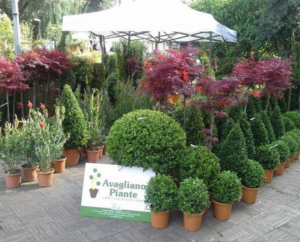 Avagliano Piante, near Salerno: established in 1995 by Salvatore and Roberto Avagliano, they specialise in hedges and shaped plants, shrubs like Laurus nobilis, Viburnum tinus, Arbutus unedo, and pittosporums, all fit for the Mediterranean climate of Salerno. Distance from other nurseries: km 57 from La Ginestra – km 63 from Vivaio Ruoppo – km from 76 Le Rose di Partenope – km 110 from Vivaio Strina.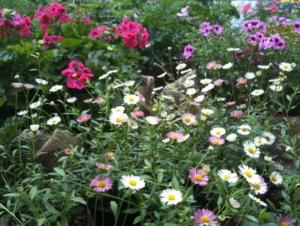 Vivaio La Ginestra, a Piano di Sorrento (Naples): located along the road that from Piano di Sorrento leads to Positano, with a brath taking view, it was created 20 years ago by Maria Rosaria and Giovanna, passionate about the plants of the Mediterranean scrub and, especially, for spontaneous local species: daisy, trachelium, sedum, rosemary, helichrysum, bellflower, convolvulus, santolina,… Recently, they have begun to produce hortensias, among which Hydrangea macrophylla 'Otakxa' -an old variety that has always been present in citruses orchards in the area of Sorrento-, sages and scented geraniums. Distance from other nurseries: km 7 from Vivaio Ruoppo – km 69 from Vivaio Avagliano – km 66,5 from Le Rose di Partenope – km 100 from Vivaio Strina.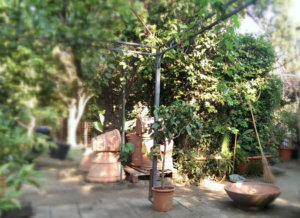 Vivaio Ruoppo, a Sorrento (Naples): it is The nursery and The florist par excellence of this renowned village overlooking the sea. Opened by Francesco Ruoppo, it is now run by his great-grandson Claudio and offers ornamental flowering plants, indoor plants, plants for balconies, citruses, cut flowers and vases in a very suggestive atmosphere. Distance from other nurseries: km 64 from Le Rose di Partenope – km 63 from Vivaio Avagliano – km 7 from La Ginestra – km 64 from Le Rose di Posillipo – km 98 from Vivaio Strina.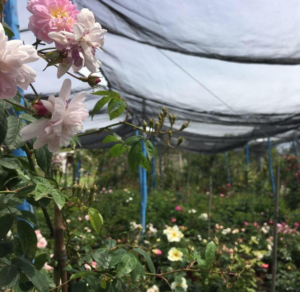 Le Rose di Partenope, Naples: this young nursery was opened by Francesco Guercio, who has always been passionate about the Neapolitan rose tradition, though with a different and innovative taste. There you can find many roses, flowering plants chosen for their strength and easy cultivation, and unusual plants that require little care. You will be guided carefully by the young owner. Distance from other nurseries: km 65,5 from La Ginestra – km 64 from Vivaio Ruoppo – km 41 from Vivaio Strina.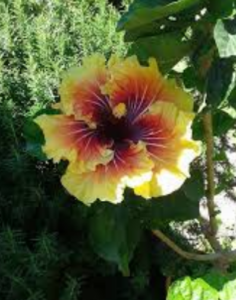 Vivaio Strina, a Barano d'Ischia (Naples): if you have the time, it is worthwhile to take a trip to the beautiful island of Ischia. There you can find a nursery, located on a hillside and surrounded by a green pine grove, that offers a large choice of unusual, rare plants from all over the world, fit to grow outdoor only in climates with mild winters. Distance from other nurseries: km 110 from Vivaio Avagliano – km 100 from La Ginestra – km from Vivaio Ruoppo – km 41 from Le Rose di Partenope – km 41 from Le Rose di Posillipo.
Once you get back on the mainland, you can connect to the itinerary Wandering nurseries: from Caserta to Avellino (Campania/1), reaching the nursery Deserto Rosso, 35 km away from Naples.
Gardens, botanical gardens and more things to visit along the way
In this area of Campania there is much to discover and visit: parks, naturalistic oasis and reserves, gardens, botanical gardens, beaches and amazing coastlines. We present you a small choice of these places, and recommend to visit the site www.luoghi.italianbotanicaltrips.com to learn more about these beautiful landscapes.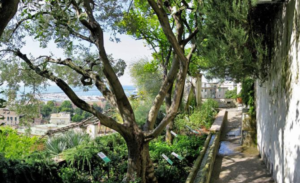 Giardino della Minerva a Salerno: this suggestive botanical garden is located in the historic centre of the City. In the Middle Ages, it was used as Garden of the Simples by the students of the Schola Medica Salernitana; it is, therefore, a forerunner of botanical gardens in the modern understanding of the word. It has a beautiful stairway and a complex system for the distribution of water made of canals, pools and fountains. There are 200 species, also rare ones, in particular those that were used as medicinal plants in the Middle Ages, among which the legendary mandrake.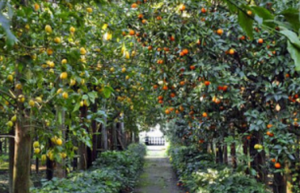 Antica Tenuta il Pizzo, Piano di Sorrento (Naples): this historic estate on a rock overlooking the sea includes an amazing citrus orchard, one of the most beautiful in Italy, dating back to the 19th Century and cultivated following tradition; there grow various specimens of citruses 200 years old, olive trees and Mediterranean scrub.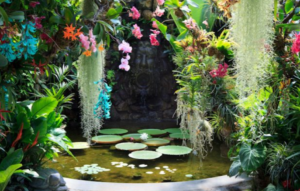 Giardini La Mortella, Ischia: this spectacular garden was created by Susana Walton, wife of the English composer William Walton, in Forio with the help of landscape architect Russel Page. There grow 3000 exotic, rare, subtropical and Mediterranean plants, among streams, lakes, fountains, pools, terraces and drywalls. Among the most amazing things you can find there, is the arboreal ferns collection, the Amazonian Serra della Vittoria, and the greenhouse of the orchids. Can't miss it!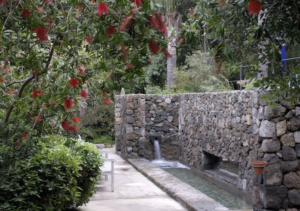 Parco Idrotermale del Negombo, a Ischia: it is a very good example of how to integrate landscape, garden, thermal waters and art. Created by the will of Duke Luigi Silvestro Camerini in 1947, then opened to the public in the 1970s, it includes 14 maritime, thermal and therapeutic pool within a great Mediterranean botanical garden designed by landscaper Ermanno Cascaso for the Duke. In the park you can also find contemporary works of art, such as Arco Verde by Arnaldo Pomodoro and Fulmine Colorato by Lucia Del Pezzo. The extraordinary vegetation is made up of Mediterranean and exotic species, South African and Australian especially. It is really worthwhile to spend a day here, among water and plants. At the end of May, the park also hosts the market exhibition of Mediterranean flowers and plants "Ipomea del Negombo".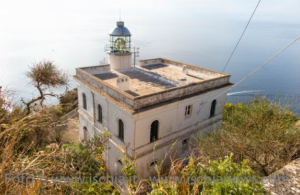 Faro di Punta Imperatore, a Ischia: it is the biggest garden on the island, with a beautiful Mediterranean vegetation overlooking the sea, between Panza and Baia di Citara. The view is breathtaking and goes from Forio to the Soccorso church, including the valleys and hills that from the sea reach Mount Epomeo and the entire Gulf of Gaeta up to the Pontine Islands.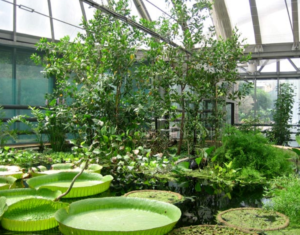 Orto Botanico di Napoli: established by an 1807 decree signed by King Giuseppe Bonaparte, brother of Napoleon, it extends over 12 hectares, where about 25000 plants grow, gathered in collections: citruses, trees, mangroves, orchids, horsetails, Mediterranean, succulents, palms, aquatics, tuberoses, bulbs, plants mentioned in the Bible, plants for the blind.