Once, it was a land of marshes and bandits, governed for centuries by families and households often fighting among them. Wonderfully depicted by Giovanni Fattori, the Maremma is also beloved by international tourism, enchanted by its violent yet sweet beauty made up of gentle hills, large agricultural fields, amazing ancient villages, beaches and mountains. The light-blue, crystal.clear waters of the Argentario, the black rocks in Talamone, the long yellow beaches of Castglione della Pescaia, the green hills of Massa Marittima and the brown profile of Mount Amiata; all this makes the Maremma a marvellous place, to be discovered slowly. In Tuscany, it is divided in three parts: the Upper Maremma in the province of Livorno, from the area of the Colline Metallifere (lit. Metal-bearing Hills) up to the Gulf of Follonica (ancient Etruscan settlement) and Massa Marittima with its medieval past; the Maremma Grossetana, made up of beaches and marinas (such as Marina di Grosseto and Principina, Castiglione della Pescaia and Punta Ala), extending up to the slopes of Mount Amiata among villages and castles (Scansano, famous for Morellino, Campagnatico and Civitella Paganico); the Lower Maremma, on the border with Lazio, with the Costa d'Argento (lit. Silver Coast) facing the last part of the Tuscan sea and surrounded by the Parco Naturale della Maremma or dell'Uccellina, with Orbetello, the village and Rocca di Talamone, Capalbio and its radical-chic beach, Mount Argentario with its rocky cliffs, Porto Ecole and Porto Sant Stefano with their crystal-clear waters, and the hinterland, with the Etruscan roots of the cities of Pitigliano, Sorano and Sovana.
Our itinerary develops around this beautiful land, among nurseries, gardens, parks and naturalistic oasis. The journey is short (in kilometres) but you need to enjoy it slowly, taking a few days to discover wonderful landscapes, culture, and, with regard to nurseries, countless collections of plants fit for hot and dry climates, with demonstrative gardens that can teach you a lot about the realisation and management of green spaces in similar environments. There is also a surprise: a collection of orchids.
Nurseries
The map indicates the nurseries and the other locations of the suggested itinerary. For each nursery, we indicate its distance from the others, in order to facilitate you in the choice of the ones to visit and their order.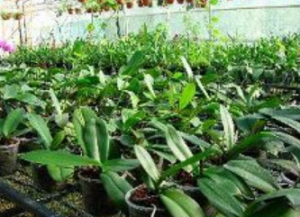 Vivaio Il Sughereto/Orchidando , a Roccastrada (GR): specialised in the cultivation of orchids reproduced by seed, micropropagation or division of the plants of the private collection, it is in constant research f new varieties. Distance from other nurseries: km 67 from Piante Mates – km 64,5 from Vivaio Albiati – km 70 from Vivaio La Parrina.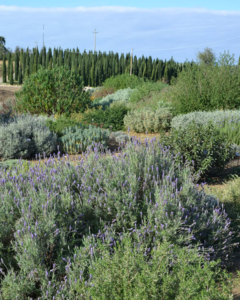 Vivaio Piante Mates, a Orbetello (GR): established in 1994 by Luca Agostino on a surface of about 40 hectares, it specialises in the cultivation of Mediterranean and Australian plants, fit for dry climates. The nursery is now testing the demonstrative garden "Botanical Dry Garden". Distance from other nurseries: km 5,5 from Vivaio Albiati – km 67 from Vivaio Il Sughereto – km 8 from Vivaio La Parrina.
Azienda Florovivaistica Albiati, creating thanks to the evolution and experience of the previous agricultural company, it cultivates (over a surface of 90000 m2 of open field nursery and 2000 m2 of heated greenhouses and shading facilities) the typical species of the Mediterranean landscape, such as strawberry trees, myrtles, rosmaries, Phillyreas, cork oaks, pittosporums, laurel oaks and cypresses, combining research about modern techniques with the most traditional materials used in the countryside of the Maremma. They also design and realise green spaces. Distance from other nurseries: km 3 from Vivaio la Parrina – km 64,5 from Vivaio Il Sughereto – km 5,5 from Piante Mates.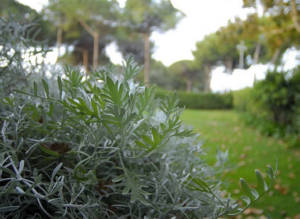 Vivaio Antica Fattoria La Parrina, a Quattrostrade (GR): this renowned nursery within the agricultural company Antica Fattoria La Parrina (producing wine, cheese, oil and fruit) is specialised in the production of Mediterranean plants and other plants coming from similar climates, fit for gardens in dry climates, nearby a coastline. They also have a very rich collection of oleanders and ancient "scrub plants", ideal for dry gardens or dry areas, needing little care and water. If you arrange your visit, the manager, Fabio Fusari, will guide you through your visit. Distance from other nurseries: km 70 from Il Sughereto – km 8 from Piante Mates – km 3 from Vivaio Albiati.
Garden, parks and reserves along the way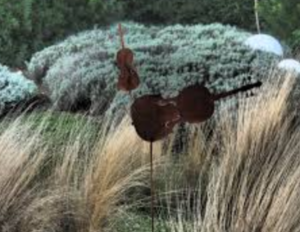 Il Giardino Secco /Dry Garden, a Orbetello (GR): annexed to the nursery Piante Mates, it is a marvellous demonstrative garden realised by Luca Agostini dedicated to plants that can grow without irrigation. Scrubs of evergreen shrubs and silver leaves, tree germanders, rosemary, lavender and many other Mediterranean plants are combined with ornamental grasses, with countless small flowers during spring and summer. The heart of the garden is the amphitheatre surrounded by cypresses, created o host concerts and other artistic representation, but also corten states of the Musicalia series, created by landscaper Vittorio Peretto in honour of music.
Giardino di Daniel Spoerri, a Seggiano (GR): it opened to the public at the beginning of the 1990s when Swiss artist Daniel Spoerri began to create a park of sculptures. Nowadays, it hosts 103 works in bronze by 50 artists, among which Eva Aeppli, Arman, Erik Dietman and Jean Tiguely, harmoniously integrated with the landscape, characterised by olive trees, chestnuts and Mediterranean scrub. There is also a botanical trail.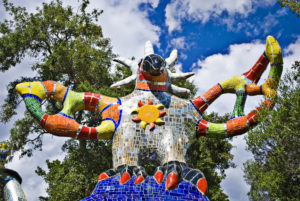 Il Giardino dei Tarocchi, a Capalbio (GR): it is an artistic and esoteric park, with statues inspired by the tarot, created by the French-American artist Niki de Saint Phalle, Catherine Marie-Agnès de Saint Phalle's pen name. 22 majestic figures in steel and concrete, covered with glasses, mirrors and colourful earthenware, stand out in the natural landscape. The garden is enclosed by a long wall at the entrance hall, created by architect Mario Botta.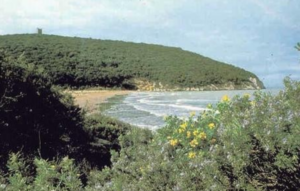 Parco Regionale della Maremma, Grosseto: established in 1975, it was the first park of Tuscany, extending over 98000 hectares along the coastline from Principina a Mare to Talamone. Within the park, there are marsh lands nearby the mouth of river Ombrone, with important colonies of marsh birds; South there are the Uccellina Mounts, covered by the Mediterranean scrub, and East, there are large prairies. Other relevant environments are the Mediterranean scrub, the lines of trees and the small woods of stone pine.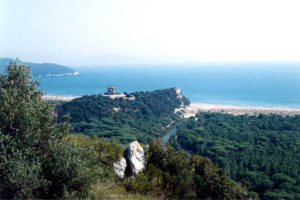 Parco Naturale dell'Uccellina: the park is located within the Maremma Regional Park and you can reach it by car or bus. It has a great naturalistic, historic and artistic value, because it includes many sighting towers of Roman epoch and San Rabano abbey. The coastline is high and rocky, overlooking the sea and without vegetation, but also low with dunes. The vegetation is typically Mediterranean, with woods, scrubs, garigues, dunes, clearings where wild orchids grow. In the park live boars, foxes, porcupines, wild cats and, along the rivers, many birds, mainly migratory. You can wander through the park on foot, by bike or on horseback and you can stay in one of the many farm resorts in the area.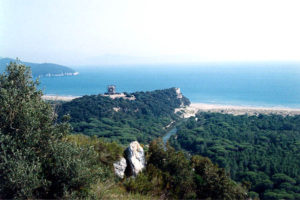 Oasi WWF Laguna di Orbetello (GR): it safeguards a moist area of great naturalist interest that, thanks to its position, houses thousands of species of migratory birds. The vegetation is from the Mediterranean scrub, with lentisk, Phillyrea, myrtle, strawberry tree and pine groves, lawns of glasswort, poplar woods, cork oaks and elms. You can find other protected oasis in the area on luoghi.italianbotanicaltrips.com/toscana/grosseto-gr/?category=parchi-naturali-riserve-oasi-paesaggi-birdwatching-passeggiate.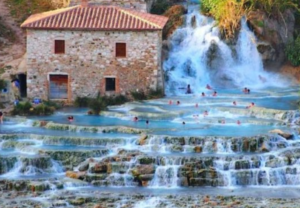 Terme Libere di Saturnia, a Manciano (GR): they are located nearby the private thermal resort Terme di Saturnia and are made up of several small natural pools, connected by a waterfall. The water comes from a natural spring and has a heat of 37,5 °C. Thanks to the presence of thermal plankton it has beneficial effects on the skin and on the digestive, circulatory and muscular systems. They are wonderful in winter, at night, when they are less crowded.
Where to stay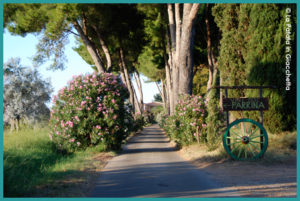 Antica Fattoria La Parrina, ad Albinia (GR): this historic agricultural company in the Tuscan Maremma produces wine, cheese, oil, fruit and is also a charming farm resort. There are 4 apartments and 12 rooms for guests within the ancient noble villa, with furniture from different epochs, yet all elegant and simple. The chambers have no television or phones to preserve the ancient history of this place and spend a magical time in deep contact with nature.