Veneto is a land rich in ancient villas, countryside and gardens, but also many special nurseries, some of old tradition and younger ones. This itinerary develops around Treviso, a city characterised by the presence of two rivers, Sile and Cagnan, flowing through the streets creating a unique atmosphere in the historic centre, enclosed by ancient walls with cobblestone streets and many taverns. There you will find the renowned piazza dei Signori with the Palazzo dei Trecento and the Loggia dei Cavalieri, porched houses with frescoed façades, Isola della Peschiera, created within river Cagnan to host the fish market, the Dome with the altarpiece of the Annunciation by Tiziano, many other churches and museums, among which Casa dei Carraresi that hosts many prestigious international exhibitions.
All around the city, there are some nurseries included in our 2-3 days itinerary, discovering perennial herbaceous plants, particular shrubs, aquatic plants, vines and trees. You can then connect to the other itinerary in Veneto, Wandering nurseries: Padua and its surroundings (Veneto/1)
Nurseries
The map indicates the nurseries and the other locations of the suggested itinerary. For each nursery, we indicate its distance from the others, in order to facilitate you in the choice of the ones to visit and their order.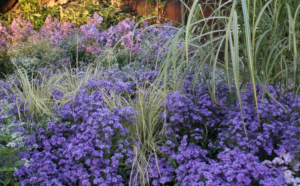 Az. agr. Priola, a Treviso: everybody knows Pier Luigi Priola and his nursery, one of the first to introduce and spread perennial herbaceous plants in Italy. Over the years, this tireless researcher of novelties has gathers very rich collections, among which achilleas, agapanthuses, bergenias, asters, astilbes, bellflowers, chrysanthemums, echinaceas, heleniums, hemerocallises, heucheras, hostas, irises, sedums, violets and ferns. Lastly, he also includes many particular shrubs, chosen for their ornamental value, curiosity and strength. A couple of times per year, usually in March for the flowering of violets and in October for autumn flowerings, the nursery is open for visits, with weekends full of events.
Distance from other nurseries: km 3,5 from Dianthus Flower Store – km 16 from Arborea Farm – km 29 from Vivai Garbujo – km 30 from Lilium Aquae.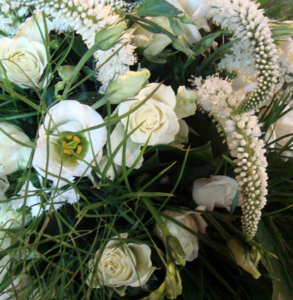 Dianthus Flower Store, Treviso: this sophisticated nursery in the city-centre offers fresh flowers, plants, vases, design objects, gift ideas, and floral decorations uniting classic and contemporary styles. They also make compositions for events, weddings, vernissages, inaugurations, company dinners, shop windows.
Distance from other nurseries: km 17,5 from Arborea Farm – km 3,5 from Priola – km 30,5 from Vivai Garbujo – km 32 from Lilium Aquae.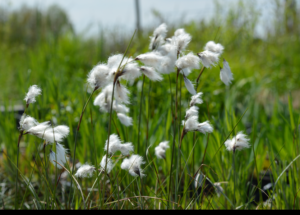 Arborea Farm Società agricola, Istrana (Treviso): establishes by the young Christian Piccaluga and Mauro Pizzolato, it is specialised in the production and sale of water lilies, lotus flowers, aquatic plants, march plants and for moist soils. It has a collection of more than 650 varieties of plants fit for the aquatic ecosystem: miniponds (small tanks for balconies), lakes, rare plants, new hybrids and local plants that are hard to find, reproduced with sustainable methods.
Distance from other nurseries: km 16 from Vivai Garbujo – km 16 from Priola – km 17,5 from Dianthus Flower Store – km 19 from Lilium Aquae.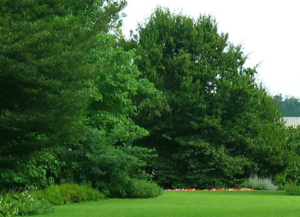 Vivai Garbujo, a Treviso: established in 1996 by the late Ivano Garbuio, the nursery produces tall and rare trees, but also trees that you cannot find anywhere else, vines (with a large collection of wisterias) and shrubs. They also design and realise green spaces.
Distance from other nurseries: km 4,5 from Lilium Aquae – km 29 from Priola – km 30,5 from Dianthus Flower Store – km 16 from Arborea Farm.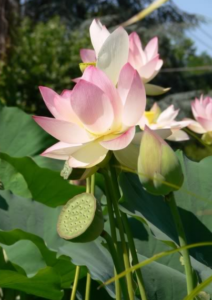 Vivaio Lilium Aquae, a Castelfranco Veneto (TV): founded by Alice Galanti, it is dedicated to the cultivation and sale of aquatic plants, especially water lilies, lotus flowers, marsh plants and a precious collection of perennial plants for moist soils. There are many ancient and forgotten varieties. It is open from March to October, but it's better to book your visit.
Distance from other nurseries: km 30 from Priola – km 32 from Dianthus Flower Store – km 19 from Arborea Farm – km 4,5 from Vivai Garbujo.
From there, you can connect to the itinerary Padua and its surroundings (Veneto/1), reaching Vivaio della Colombara, 8,5 km away.
Gardens and botanical gardens in the area
There are many historic villas to visit in the area, together with their parks and gardens, and also a very pleasant botanical garden that cannot be missed.
Conservative botanical garden Carlo Spegazzini, it expands over a 15000 m2 municipal area, where more than 550 local plants were planted. Among the most important areas there is Siepe Planiziale, reproducing the typical environment of the wood in the Po Valley before human intervention; the vinea and mulberries area, a cultivation very widespread in Veneto until a couple of decades ago; the moist area, where there is an aquatic flora and fauna. Adjacent to the conservative botanical garden, there is the Phenological Garden, with 32 plant from 8 different species, among which Salix acutifolia 'Willd', Salix viminalis, Cornus mas and C. sanguinea, Sambucus nigra, Ligustrum vulgare.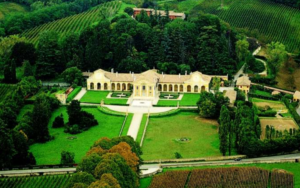 Villa Barbaro, a Maser (Treviso): one of Andrea Palladio's masterpieces, it was built between 1554 and 1560 on the Asolandi hills. In 1996 it became a UNESCO World Heritage site. Nowadays, the villa is inhabited by its owners and is also a prosperous agricultural company whose wines are sold all over the world. It hosts an important collection of carriages. The Italian garden is enriched by precious statues, like the Nymphaeum and Neptune fountain.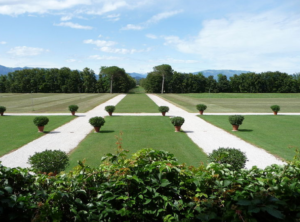 Villa Emo, a Vedelago (Treviso): built by Venetian gentleman Leonardo Emo between 1561 and 1566 and designed by Palladio, it mixes the needs of agricultural life with ancient architecture. In 1996 it became a UNESCO World Heritage site, together with other Palladian villas in Veneto, and is surrounded by an English landscape park, created afterward. Of the ancient garden remains a long lined boulevard and a gallery of hornbeams.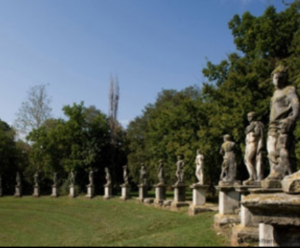 Parco di Villa Cornaro Revedin Bolasco, a Borgo Treviso, Castelfranco Veneto (TV): this 15th Century estate was re-designed by Vincenzo Scamossi at the beginning of the 17th Century and is located along the road that from the city of Castelfranco leads to Treviso. In 1868 architect and landscaper Antonio Caregaro Negrin reorganised the park, that is now being renovated by the public administration that has its recovery at heart.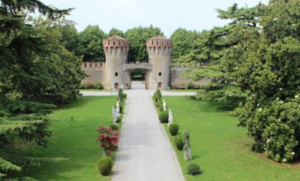 Villa Giustinian – Castello di Roncade, a Roncade (TV): one of the most characteristic testimony of Venetian rural culture, it was built in the 16th Century on a structure dating back to the 10th Century. The current owner, baron Ciani Bassetti, added value to this place, maintaining the agricultural tradition, especially viticulture. The garden on the inside is dominated by secular pines and magnolias. In front of the villa, the paved courtyard has an Italian garden on each side with geometric flowerbeds and paths delimited by small hedges, whereas on the back there is a "brolo" (vegetable garden and an orchard delimited by a wall or hedge).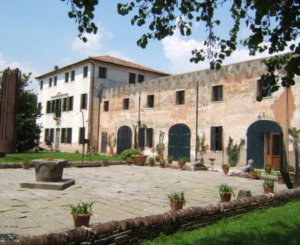 Villa Marignana Benetton, a Marocco, Molgiano Veneto (TR): this 18th Century villa with a Venetian scheme, built on a 17th Century structure, hosts the "Toni Benetton" museum, with its macro-sculptures in iron within the secular park, the International Academy of Iron and the International Documentation Centre on Iron, Bronze and other metals. On the back of the house there is a large English park.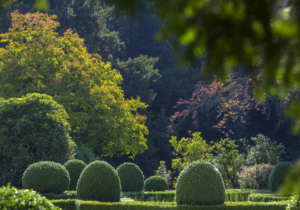 Villa Tiepolo Passi, a Carbonara (TV): dating back to the 16th Century, it is characterised by a very long perspectival boulevard. On the front, there is a large and beautiful Italian garden, with yew and box bordered flowerbeds beautifully pruned, enclosed on the sides by a suggestive romantic park with an ice-house, grottos and secular trees. The estate is carefully run and is still today a very efficient agricultural company aiming at the recovery of the extraordinary water drainage facility.
What to taste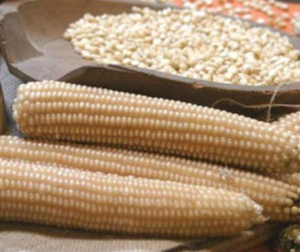 Among the many typical products of the territory around Treviso, we recommend red radicchio of Treviso (especially in winter, when it is still small and tender) and biancoperla corn, besides the exquisite Prosecco. Among the characteristic dishes we recommend the famous "risi e bisi" (rice with peas).