This post is also available in: Inglese
Valpolicella is a hilly area before the Prealpi Veronesi, where you can already breathe mountain air. It extends for 240 km2 and includes seven Municipalities, all in the province of Verona. The landscape is wonderful, with plenty of ancient villas, historic gardens, parish churches, cultivations of cherry trees, olive trees and peach trees, and above all vineyards: the region was renowned since ancient Roman times for viniculture and for the production of the Amarone wine in particular. Beautiful in every season, Valpolicella is particularly suggestive in autumn, when it is full of warm colours.
Through the itinerary suggested, you will discover the territory starting from some very special companies, suggested by Stefano Lorenzi (arborist and tree climber certified by SIA, but also AIS sommelier and therefore connoisseur). Among the more than 160 producers of Amarone, the most typical wine in Valpolicella, he chose four in particular that excel for the quality of their products, the originality of their history, the respect for the environment and the great attention to the territory and to the trees in their lands: they are biological or biodynamic, or follow official biological guidelines and leave the care of their centenary trees to Stefano and his team.
Cellars
The map shows the cellars of the itinerary suggested. For each cellar, we indicate its distance from the others, to make your journey easier. As an option, we suggest some gardens, villages, churches, ancient villas, cherry tree cultivations and other beauties in the area to visit in the meantime.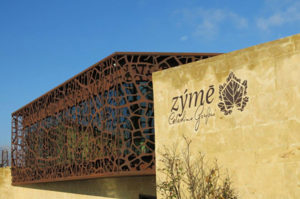 Azienda agricola Zymè, San Pietro in Cariano (VR): it is one of the most spectacular and original cellars in the area, and it produces excellent wines. Located in an ancient gritstone quarry, it was established by oenologist Celestino Gaspari following the concepts of production sustainability and excellent results. His 30 hectares of vineyards produce very refined wines, with an almost maniacal attention to the territory: "Zymè wines can be traditional, like Valpolicella and Amarone, but also incredible creations using international grape varieties like Kayros or the wonderful Black to White, an example of how extraordinary the genetics of nature are", explains Stefano Lorenzi, "What is particular about Zymè is that the barrique is naturally refreshed by a karstic trickle of water…this helped with the conservation, value and saving energy without any impact on the environment".
Distance from other cellars: km 3,5 from Cantine Santa Sofia – km 7 from Cantina Mizzon – km 71 from Azienda Monte dei Ragni.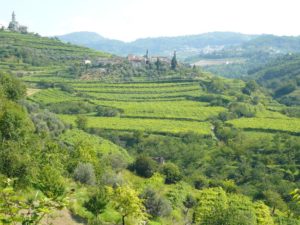 Cantina Santa Sofia, a Pedemonte (VR):  this prestigious wine label established in 1811 is located in Valpolicella Classica in and ancient Palladian villa. Since 1967 it is owned by the Begnoni family, taking care of both the agronomic and vinification tasks. The cellars include various spaces dating back to different historic periods, from 1300 to 1700. The vineyards extend for 38 hectares. "In Santo Sofia you can breathe history…in the garden of the villa…walking among the centenary trees and the water plays created by the landscape architect with a glass of one of their wines you can feel the elegance and the nobility of the place", says Stefano Lorenzi. Among the wines they produce, well balanced and with great structure, there are Amarone della Valpolicella, Valpolicella Superiore Montegradella, Valpolicella Ripasso, Arlèo, Predaia, Recioto della Valpolicella.
Distance from other cellars: km 4 from Cantina Mizzon – km 3,5 from Cantina Zymè – km 72 from Azienda Monte dei Ragni.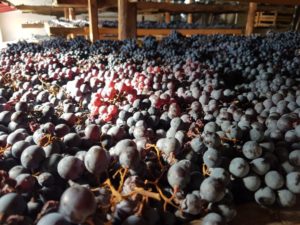 Cantina Mizzon, San Pietro in Cariano (VR): located in a farmstead built in 1917 and owned by young Nicola Perusi, who runs his grandfather's company, it is one of the very few cellars that naturally wilts for four months the Amarone and Recioto grapes on the "arele", a traditional trellis made of reeds placed in the attics, with only the help of fans and big windows left open all the time. His vineyards are located in various areas between the Marano di Valpolicella valley and the plain of San Pietro in Cariano. The cultivation and the production are completely natural, in order to respect the environment and the micro fauna, using ancient good practices among which the constant defoliation and cleaning of the grapes to decrease the use of phytodrugs (that are as natural as possible anyway, sulphur and copper-based). Stefano Lorenzi says: "I'm enthusiastic about Nicola because he is not 30 yet but he has already understood what it means to respect the territory…he enters the vineyard on tiptoes…you can feel it in his wines…he gave elegance to wines that in certain years were a symbol of power…now they are truly complete. The past, the present and the future coexist…Nicola still uses the traditional method of wilting that allows him to save a lot of energy".
Distance from other cellars: km 3,5 from Cantine Santa Sofia – km 7 from Cantina Mizzon – km 71 from Azienda Monte dei Ragni.
 Agricola Monte dei Ragni, località Marega, Fumane (VR):  their Amorone is one of the top 5 in Valpolicella. It is run by Zeno Zignoli since 1996, the first to introduce biodynamic in the area. The vineyard, cultivated with only the help of horses, extends for about 2 hectares, with a simple pergola vine training that allows a better exposure to the sun and work in general. Among the vineyards, divided by the typical drywalls ("marogne") there are olive trees, cereals, fruit-bearing trees and vegetables that create a beautiful agricultural landscape, very rich in biodiversity. The wines (Amarone, Valpolicella, Valpolicella Superiore) are produced in very small quantity and have an incredible quality, territoriality and expressiveness. Says Stefano Lorenzi: "Since I met Zeno, I often talk to him about roots or soil and we forget about the wine. An immense culture of the mechanism the regulate nature…I am convinced that he has a magical attitude towards trees and plants in general. His wines come out 10 years after harvesting…a huge effort for a small cellar…but it shows his belief and the utmost respect towards wine and those who drink it. No marketing…if the season is low he won't stress the vineyard…he cultivates other things…he lives with other things…Monoculture is synonym of ignorance…"agri-ignorance"…he does "agri-culture". He is an enthusiast…when I taste his wines or have a walk with him in the vineyard or listen to him, I hope the future of wine will hold 100…1000 Zeno Zignoli!".
Distance from other cellars: km 71 from Cantina Zymè – km 72 from Cantine Santa Sofia – km 72 from Cantina Mizzon.
Gardens to visit in the area
Valpolicella is also a land of great gardens, created over time as ornament to the mansions of nobility. We will suggest only four of them, both ancient and contemporary, English and Italian, but you can find many other gardens of this area, on Lake Garda and other parts of Veneto on the site www.italianbotanicalheritage.com ,
https://luoghi.italianbotanicaltrips.com/veneto/?category=dimore-ville-castelli-con-giardino
and https://luoghi.italianbotanicaltrips.com/veneto/?category=giardini-e-parchi-storici-privati-e-pubblici
and https://luoghi.italianbotanicaltrips.com/veneto/?category=giardini-e-parchi-contemporanei-privati-e-pubblici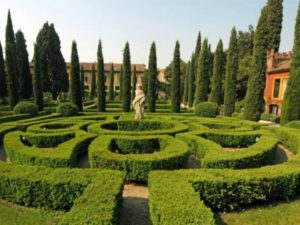 Giardino Giusti, a Verona (VR): located near the city centre, it is a wonderful example of Italian garden, created by the will of Count Agostino Giusti in the second half of 16th Century. The entrance is through the 16th Century hall of the palazzo. Among its most important features, the majestic cypress boulevard in perspective, the Italian area decorated with flowerbeds, mythological statues, Roman headstones, Renaissance fountains, the wood, the caves within the rocks, the greenhouse full of potted citruses, but above all the famous labyrinth with boxwood hedges, among the most ancient in Europe: redesigned in 1786, it already existed in the 16th Century garden.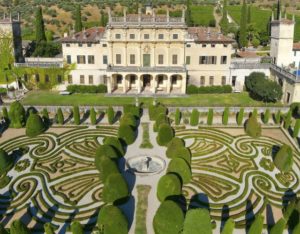 Villa Arvedi, Cuzzano, Grezzana (VR): 9 km away from Verona and included in a large agricultural property. Described in historic documents since 1200, it was rebuilt in its present baroque shape in 1650; in 1824 it was bought by Giovanni Antonio Arvedi, whose heirs are still the owners of the mansion. Richly decorated on the inside, it is surrounded by a spectacular Italian garden dominated by multi-centenary boxwood hedges, and enclosed and protected by a thick vegetation of ancient olive trees. In the garden you will also find a baroque nymphaeum richly decorated with shells, mosaics and mythological statue.
Giardino di Casa Biasi, a Caprino Veronese (VR): created within an ancient orchard by Mario and Luciana Biasi, starting in 1977, it is made up of a 19th Century romantic park, with big specimens of tilia, Lebanon cedar, plane trees, maple trees, flowering shrubs and undergrowth plants, a dry and gravelled Mediterranean garden, with a small olive grove and terraces with cypresses, oleanders, citruses, flowering bushes, jasmines, palms, roses, peonies and anemonies.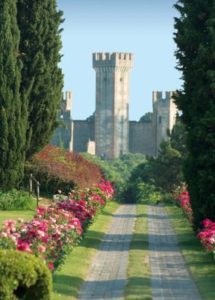 Parco Giardino Sigurtà: Valeggio sul Mincio (VR): it is 60 hectares naturalistic park, a few kilometres South of Lake Garda. Open to the public since 1978, it is one of the most extraordinary gardens in the world: in 2011 it won the First Prize of Grandi Giardini Italiani for best maintenance, good management and care, and in 2013 it won the Parco più bello d'Italia (Most beautiful Italian garden) competition in the category "private parks". Among its main features, the flowerbed with tulips, irises, roses, asters, dahlias and many other flowers; the small lakes and the pools with water lilies and lotus flowers; the famous Viale delle Rose, 1 km long and made up of 30 thousand selected 'Queen Elizabeth' roses, Polyantha and Floribunda hybrids; the new yew labyrinth; the medicinal plants garden; the big ancient trees.
Other things to visit in Valpolicella: ancient villas, churches, cherry trees and landscapes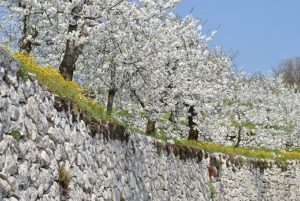 Flowering cherry trees: in spring, the Valpolicella hills, Gargagnano and Marano in particular, are full of white clouds when cherry trees bloom, a typical cultivation of the area. March and April are therefore a wonderful period to visit the area, but also May and June: when the fruits are ripe, many events are organised in the nearby villages where you can taste the different varieties cultivated.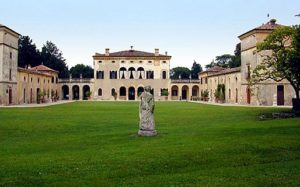 San Pietro in Cariano: the heart of Valpoliceela, 20 km away from Lake Garda, it has very ancient origins as testified by the Roman evidences. After the subsequent Venetian domination (XV-XVIII), the noble of Verona built many beautiful villas with Italian style gardens. Nowadays there are about 15 of them left, among which Villa Serego, in Santa Sofia di Pedemonte, designed by Andrea Palladio, but only partly realised. There are also many religious buildings, the most ancient dating back to the Middle Ages, among which the San Floriano parish church (Pieve), the best evidence of Romanticism in Valpolicella: rebuilt in 1117 after an earthquake that destroyed the previous Longobard building, it looks like it had been a Roman temple before.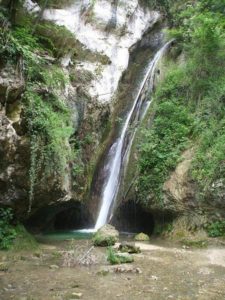 Valle Fumane:
located in a wide plain highly cultivated with large vineyards, cherry tree groves and olive groves, it is characterised by terraces ("morogne" in the local dialect) cultivated with vines, woods and lawns. Deeply dug, a few streams run along the valley (called "progni") that converge in the Fumane stream. It includes the Parco delle Cascate di Molina (Molina Waterfalls Park), a village in good state with paths among woods and lawns, the Museo Botanico della Lessinia (Lessinia Botanical Museum), the Fiumane Cave discovered in 1964 with traces of Neanderthal man and Homo Sapiens Sapiens, 16th Century Villa della Torre, the Madonna della Salette Sanctuary located on the hill dominating Fumane and built in 1860 as a vow to stop mildew.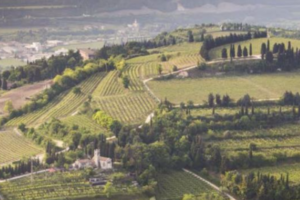 Sant'Ambrogio di Valpolicella: its territory has been known since Roman time for its marble quarries. Among the ancient Veronese villas still present, we recommend 14th Century Villa Serego Alighieri with its Italian garden. Among the religious buildings, the 12th Century Chiesetta di San Zeno in Poia in Grola, the Longobard-Roman Pieve di San Giorgio.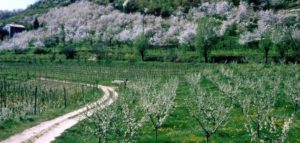 Gargagnago:  the Quattro Fontane Path is very suggestive, a 2,5 km walk that starts in the centre of the village and leads to the discovery of four ancient stone fountains, among fields with cherry trees and vineyards. In spring, you can't miss the Festa della Ciliegia; in autumn, the events La Settembrina in Gargagnago, the Festa de le Fae in November, and in Dicember the Dispensa dei Sapori e dei Saperi.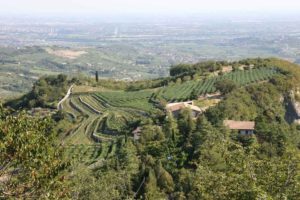 Vallata di Marano: located in Valpolicella Classica, it is rich in prehistoric and historic evidences and it also includes some beautiful villas dating back to the times of Venetian domination (Villa Lorenzi e Villa Porta a Canzago, Villa Guantieri, Villa Nuvoloni) and many highly interesting churches, among which Chiesa di San Marco al Pozzo (13th Century) with its 16th Century frescos, Chiesa di Santa Maria in Valverde (12th Century) built on the remains of a temple dedicated to Minerva, Chiesa di San Giorgio di Purano first named in 1458. The territory id rich in caves, among which Coalo del Diavolo and il Buso Streto in the area of Ciacalda, very interesting from the point of view of fauna. Wonderful, in spring, the blooming of the cherry trees.
This post is also available in: Inglese